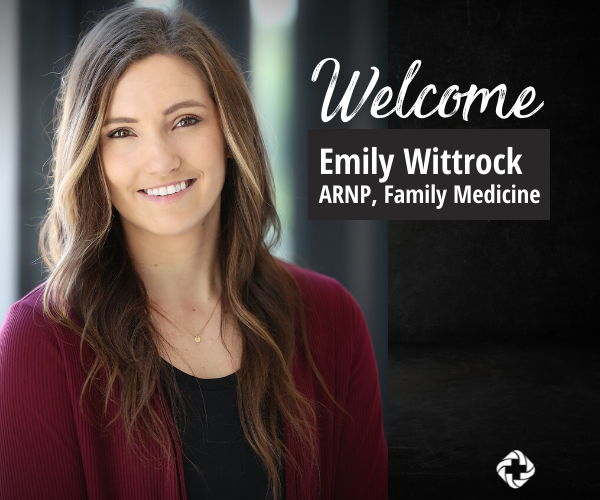 Cass Health Welcomes Nurse Practitioner Emily Wittrock
August 22, 2022
Cass Health is pleased to welcome Emily Wittrock, ARNP to the team of providers at Atlantic Medical Center, RHC. As a board-certified family nurse practitioner, Wittrock will provide care to patients of all ages. She is a member of the American Association of Nurse Practitioners and the National Society of Leadership and Success. Previously, she earned a life-saving award from the Iowa Heart Association and is a DAISY Award Winner.
"I wanted to be a provider since I was in elementary school. I have always wanted to work in rural health care, because I have always felt so supported by this community," said Wittrock. "I am excited to give back and build relationships with my patients and grow as a provider, and I feel really fortunate to be working with so many established, knowledgeable providers at Cass Health."
Wittrock graduated with an Associate's of Science in Nursing in 2015 from Southwest Iowa Community College. In 2017, she completed her Advanced EMT training at Mercy College of Health Science. The following year, she graduated with her Bachelor of Science in Nursing from Western Governor's University. Most recently, she completed her Master of Science in Nursing from Clarkson College in 2021. Wittrock has work experience in cardiac/telemetry units, ICU, medical/surgical hospital units, emergency medicine, surgery, behavioral health, and hospital medicine. Over the last several months, Wittrock has worked on the hospital medicine team and in AMC Rapid Care, both areas where she will continue to work on an as needed basis.
"Over the last seven years, I've been really blessed to work in a wide variety of healthcare settings – everything from emergency situations as an EMT to working with our hospitalist team. That's part of what I love about rural medicine — the wide scope — and I think it makes me a well-rounded provider," said Wittrock.
Wittrock and her husband Josh are life-long residents of Anita, and they have one son named Westen. She is a member of Anita Town and Country and the Anita Volunteer Fire Department.
To make an appointment, please call 712-243-2850.